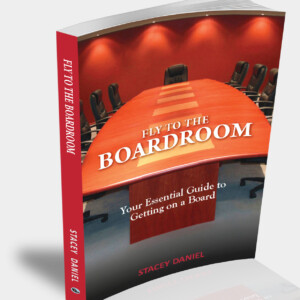 Book: Fly to the Boardroom
Your Essential Guide to Getting on a Board
Fly to the Boardroom demystifies the world of boards, the boardroom and board work, and provides guidance for how to get on a board.
Whilst introductory in nature and an easy-to-read format, the book provides key information, insights and practical steps for aspiring, new and even experienced directors.
The reader is taken on a transformational journey and flying trip to significantly build their knowledge, understanding and confidence about boards.
The book shares the what, why and how for getting on a board and what to expect. Details include terminology, opportunities, pathways and tangible steps to the boardroom.
Please note: These paperback orders only ship within Australia. Please allow 1-2 weeks for delivery under current circumstances.
**Ebook version and overseas paperback delivery can be ordered via Amazon at this link.
$

28.00
Add to cart