Our Founder
Board Presence is led by Stacey Daniel, with a passion for empowering others with the capability and capacity for future decisions. Stacey has extensive experience in the corporate and community sectors working across industry, government, consulting and voluntary roles.  She has worked with multi-national companies, State and Federal government departments, local government, community groups and small business.
Stacey has also fulfilled multiple Board roles as a Non-Executive Director with over ten appointments to various Boards and Committees.  She is a Graduate Member of the Australian Institute of Company Directors and holds credentials as a Fellow, Chartered Professional Engineer and Registered Assessor for Engineers Australia.  Stacey also annually judges the nation's most Sustainable Community Award for the Banksia Sustainability Awards.
In 2020, Stacey became a published author with the release of her book, Fly to the Boardroom: Your Essential Guide to Getting on a Board. She was also recognised as one of Australia's Most Innovative Engineers for her book and her role in raising awareness of technical diversity on boards. She presented at conferences including the World Engineers Convention in 2019 and the Sustainable Cities Conference in 2017 discussing 'Engineers on Boards'.
Australia's Most Innovative Engineer 2020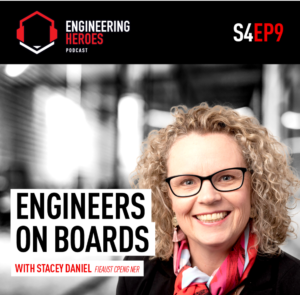 Stacey was made an Engineering Hero in 2020 for her work. You can listen to her on the podcast (approx 30 minutes).
Jessica Dennien spoke to Stacey on the Mumgineer podcast where they spoke about being a mum, being an engineer and being on a board. You can listen to the podcast (approx 30 minutes).
 Board Presence grew out of:
A passion for business, healthy environments and enriched communities.
Acknowledgement that Boards can create a better future.
A desire to help Boards, Directors and prospective Directors.
The need for healthy and sustainable decisions.
We believe:
All Boards can create healthy short and long-term outcomes.
The right people on the right Board can make a difference.
Anyone can consider being on a Board.
Our Values
Healthy: 
Our best contributions and outcomes are achieved when we perform the best version of ourselves.
Ethical: 
Short and long-term social and environmental impacts and benefits are considered.
Collaborative: 
Respectful and happy connection unlocks collective strength and capacity.
Future-Focussed: 
Long-term thinking enables sustainable operation and adaptation to constant change.
Lifelong Learning: 
Actively build skill and capability in ourselves and others.
How we've helped others...
Stacey has worked on a range of Board and Non-Executive projects including:
Non-Executive Director Mentoring
Committee Member Coaching
Board Pathways and Positions
Board Preparation
Board Candidate Referrals
Candidate Guidance
Board Planning and Preparation
Board Performance
Organisational Reviews
Governance and Risk Reviews
Future Initiatives
Strategic and Sustainable Planning